On rare occasions work and play intersect in a perfect crossroad. This perfect cross-over has happened for Maleka and I. We have been invited to help in the staging of a villa on St. Bart's for a photo spread that will appear in French Elle Decor magazine. This fabulous opportunity has been afforded to us by the home owners of Villa Palmier, Kate and Matt Holstein .
The Holstein villa is tucked into the stoney slopes of the Island and overlooks the ocean and the hills on a site just above the airport and the town of Gustavia.
The home is decorated with a clean modern elegance that still captures casual island living. With a living room that literally adjoins an outdoor pool and sundeck, happy guests feel like they are living in a paradise tree house.
Quaint small restaurants, patisseries, sandy coves and turquoise blue water are found at every turn in the winding roads. The harbor in Gustavia welcomes yachts from around the globe that include the most beautiful ships in the world.
And the FOOD!!!
I hope the following photos will tell the tale: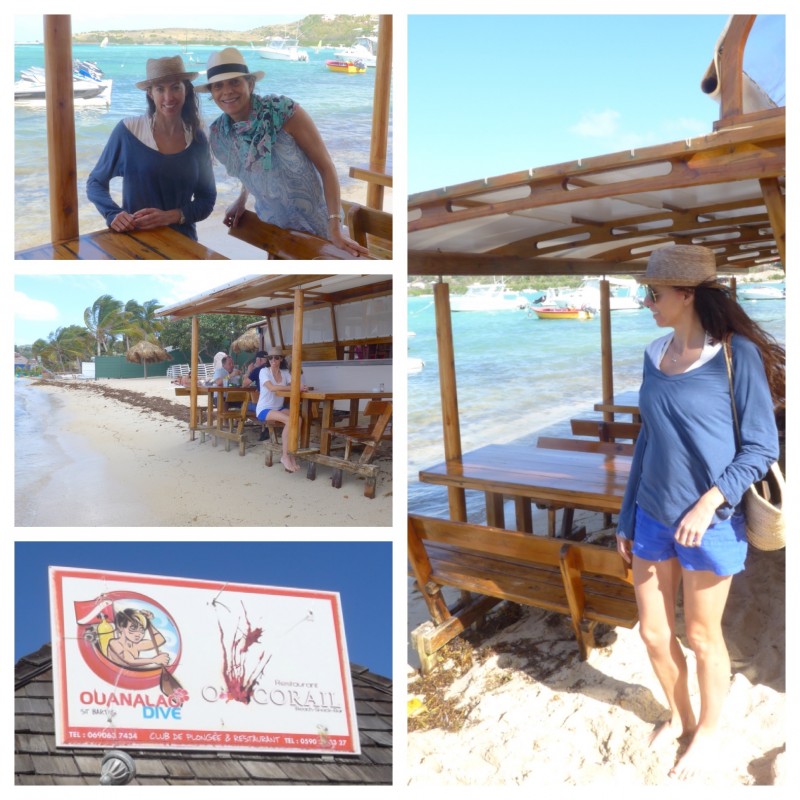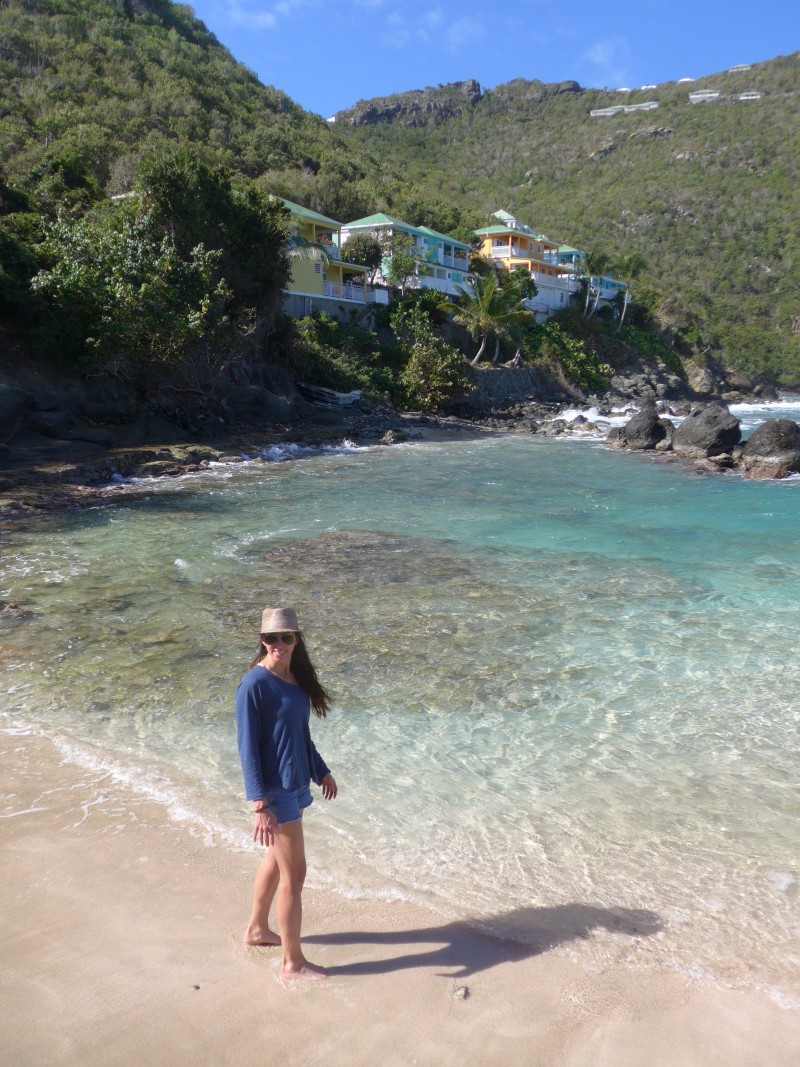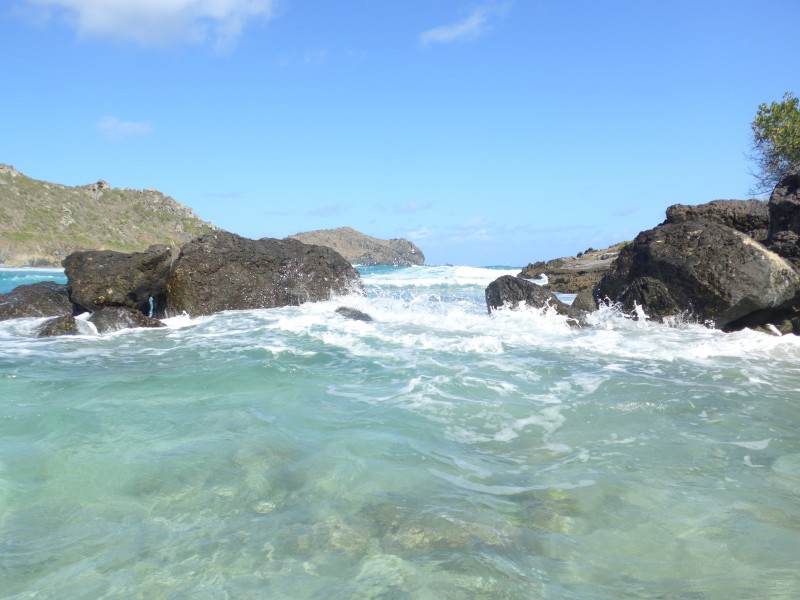 Petite Anse
GREAT DINING In ST BARTS:
ISOLETTA in Gustavia: casual italian, excellent pizza.
O'CORAIL in Grand Cul de Sac: on the beach literally, toes in the sand, super casual but
excellent seafood, fresh fresh, great view of bay with wind & kitesurfers.
Le GRAIN De SEL in Saline: wide range of seafood dishes, beef, poultry and duck. Very gourmet in preparation and assortment of dishes.
BAR OUBLI in Gustavia: nice location near marina and boutiques. Nice fresh squeezed juices and cappucinos.
La PETITE COLOMBE: Fabulous patisserie and boulangerie. Gathered our almond crossiants here every morning.
The HIDEAWAY in St.Jean: well priced casual pizzas. They also bring a hibachi to the table and grill meats and fish. Very low key and easy.
D0 BRAZIL close to Gustavia at Shell Beach: High beach dining ,,,big fashion scene. Great people watching as well as gourmet food. Then wander to the beach and have a swim out to the rocks. Many nice boats in the harbor to admire.
CHEVAL BLANCHE in Flamand does a beautiful brunch , this is a super elegant spot.
BONITO: Amazing service, perfect cuisine and beautifully decorated. Go here for a special occasion dinner and enjoy lounging first on the sofas. Be sure to ask for window view. They may win our award for all around best in St. Barts!!! The grilled octopus and grilled sea scallops are outstanding. Elegant staff keep serving an assortment of 'muse bouche' which add some surprises to the evening.
Les BANANIERS: Immediately next door to The Petite Colombo patisserie in the Anse des Cayes neighborhood, with a side entrance door which fools guest into thinking this is not much of a restaurant. On the contrary, we had an excellent well priced gourmet meal here. Included in our selections were escargot, lobster curry fricassee and creme brulee. All dishes were prepared well, delicious and very well priced!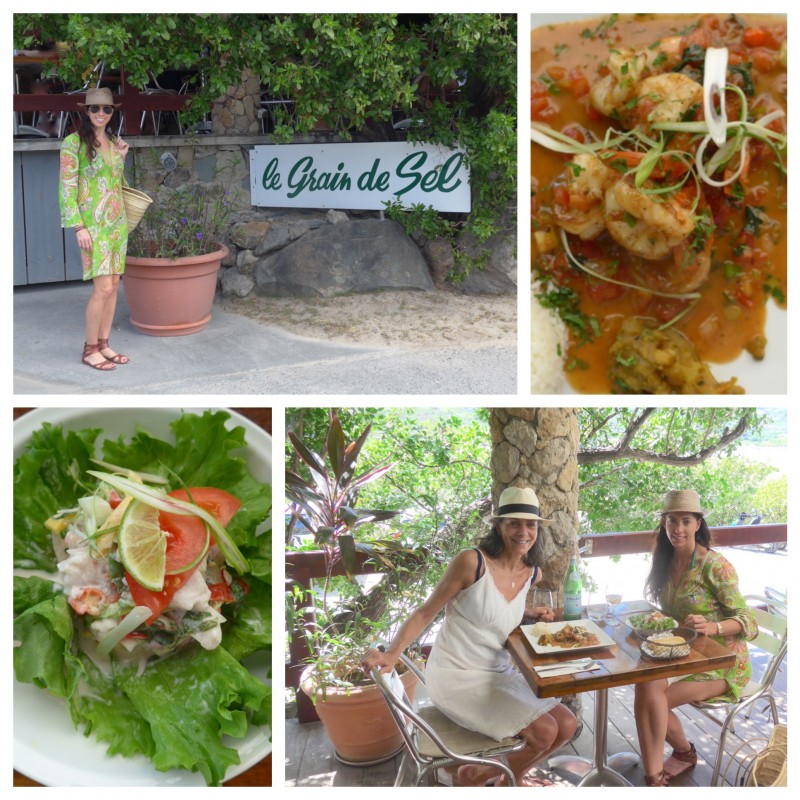 THE BEACHES of ST BART'S
St Bart's beaches encircle the island in magical coves. They are small segments that encircle the island and require a bit of exploration. Each of the 14 beaches offers a different element of scenery, flora and geological outcroppings, different views and different levels of dress (or undress).
Exploring the beaches is one of the delights of the Island experience.
Beaches are marked with whimsical ceramic tile plaques.
Each beach sports its own qualities and all are worthy of a visit.
Maleka and I tired our best to visit all 14,, we almost succeeded. Give it a try!
The french word for cove is Anse and many of beaches all carry that first name.
BEACH HIGHLIGHTS:
Anse Des Cayes: just below Villa Palmier where we are staying. One of the only surfing beaches on the island due to huge aggressive waves. Beach front has a charming old island hotel and restaurant called Fellini. They have a good bar where you can grab a drink for the beach and also some great available lounge chairs and hammocks. For two Euros you can enjoy a cappuccino and lounge late into the afternoon.
Anse de Flamand: walk to Chevalier Blanche and enjoy a lounge on their beautiful chairs or just keep walking .
La Petite Anse: head down some stairs to a tiny cove very private and protected. We met a lovely young new york artist there who was clad in a clay face mask. She was lovely described her artwork and offered us a beauty tip, use white clay mask called Argile which can be purchased in local supermarket, eliminates toxins in the skin etc etc etc (one of beautiful french women's beauty secrets.
Shell Beach: This beach is open to the yachting side of the island and had several boats anchored in the bay. The beach is the only island spot for shell collecting and also good swimmers can venture out to the rocks for a climb onto the rocks and a peak at another bay. The spot is especially popular because Do Brazil restaurant boarders the beach, great eating see above for photo.
Anse de Grand Cul de Sac: lots of kit surfing and wind surfing happens here. The rentals for these sports are all in this cove and also the super casual restaurant O'Corail is here. See above photo, you literally dangle your feet in the water as you dine. The menu is surprisingly delicious and well prepared for such a sporty setting.
Anse de Saline: It is hard to pick a favorite on the island but this spot won my heart. The setting is so exotic. The cove is bordered by clay cliffs that sport cacti and look very desert like. As the land moves down to the ocean the water glows in azure blue.
To add to the excitement (or not) this is one of the topless spots for those who enjoy that lack of attire. Pas Moi!
Very near the beach access is a wonderful restaurant Le Grain de Sel see above.
Anse a Toiny: This beach requires a beautiful car trek through the middle of the island and is worth every inch of the drive. En route to Toiny one passes Anse de Grand Fond. Toiny can be accessed from the road but I suggest driving all the way to the beautiful Hotel Toiny . You can park your car there and their valet service will drive you to the beach via jeep. Once you get to the beach there is a full service mini village with wine and food service, beach loungers etc etc.. and excellent surfing waves. The ULITMATE good LIFE!!!!
Pointe Milou: This location boast a well respected spa and Hotel Christopher which has a grand pool and dining lounge. Views are breath taking . Not much beach for lounging but another grand view.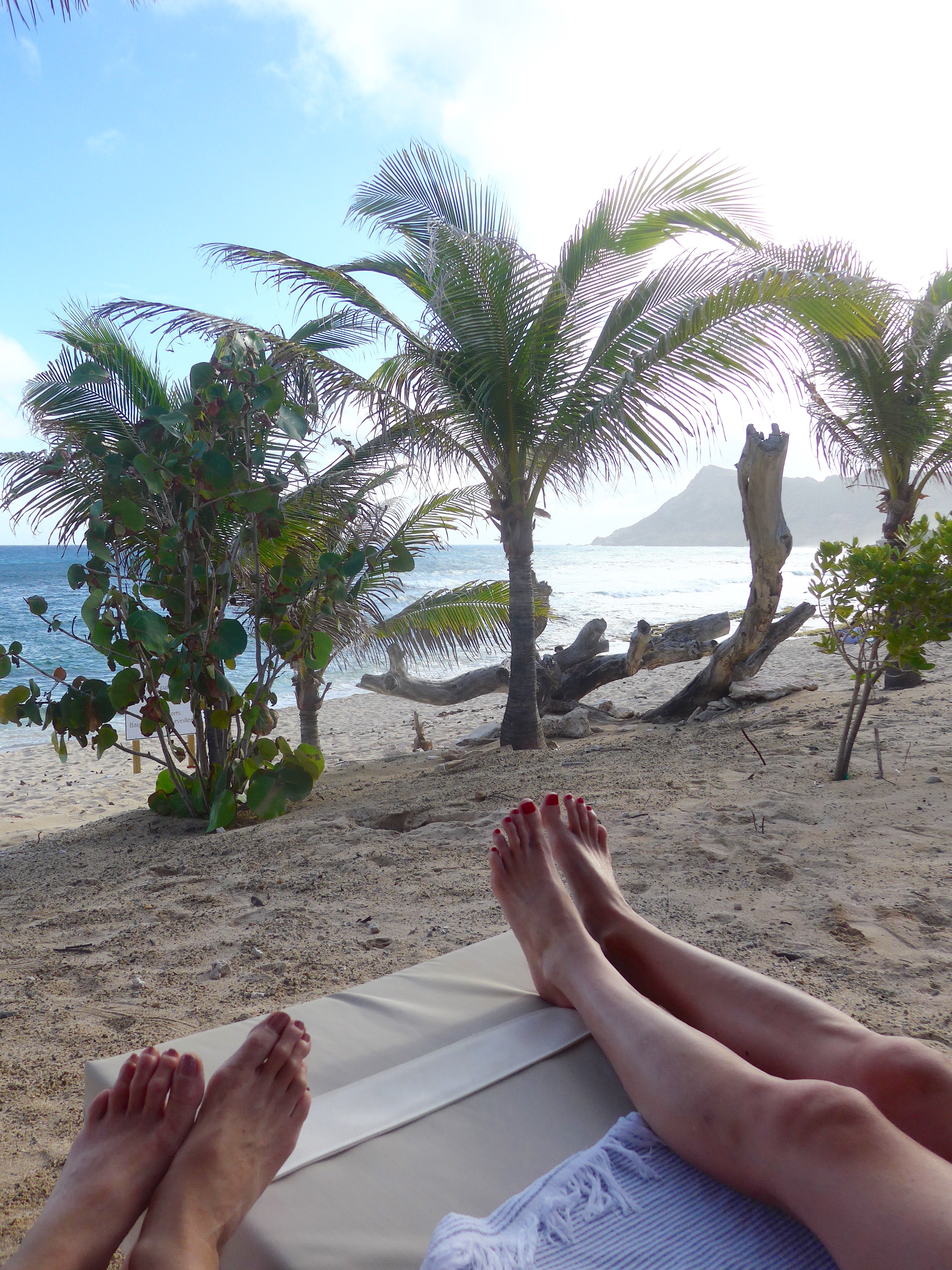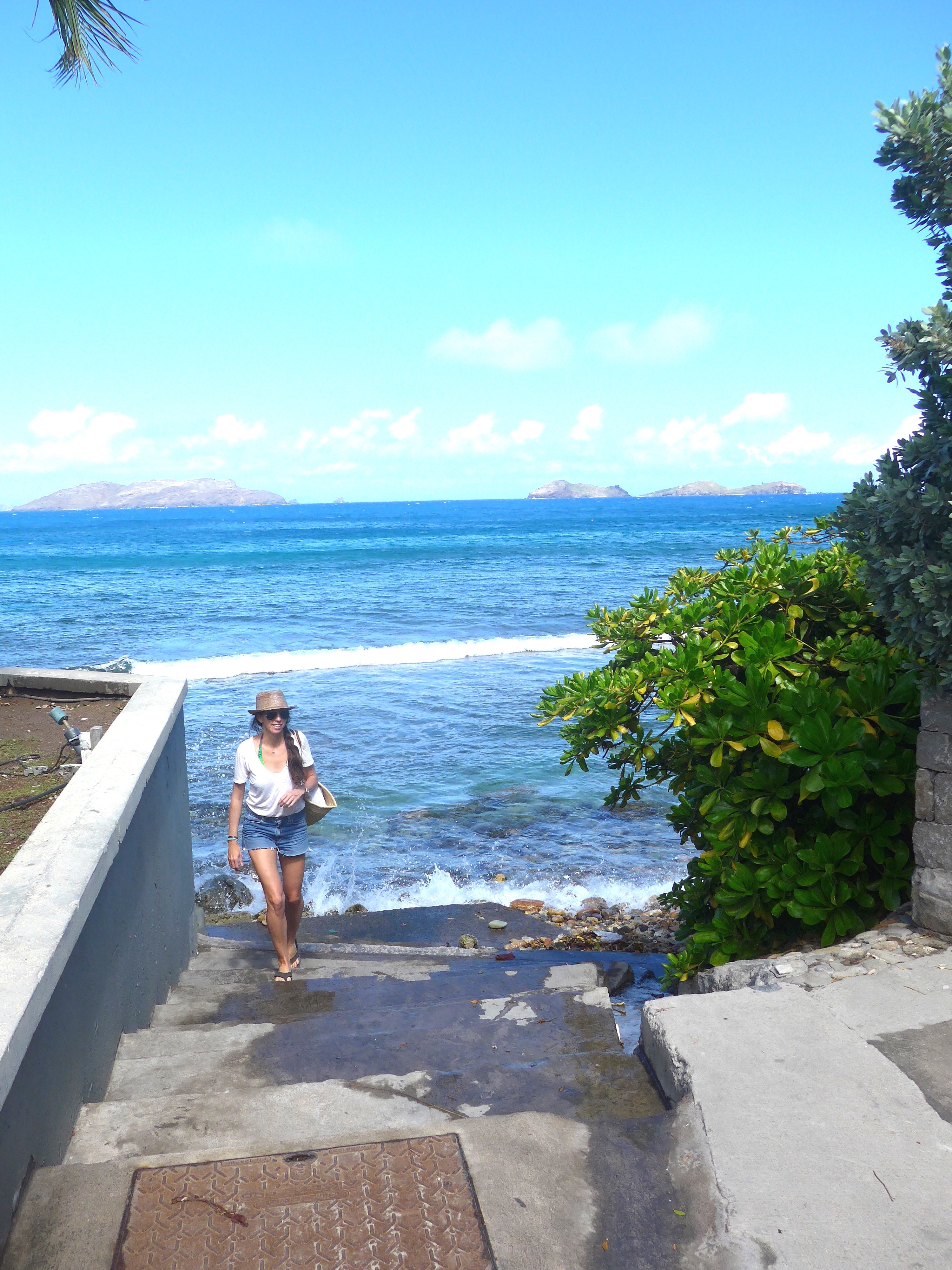 LODGING
On this visit we stayed in the marvelous Villa Palmier which is to rent via www.villapalmier.com
The villa is located in middle of island just above the airport. We found the location very practical.
The villa is appointed with immaculate attention to detail, style and comfort.
Have a look below: